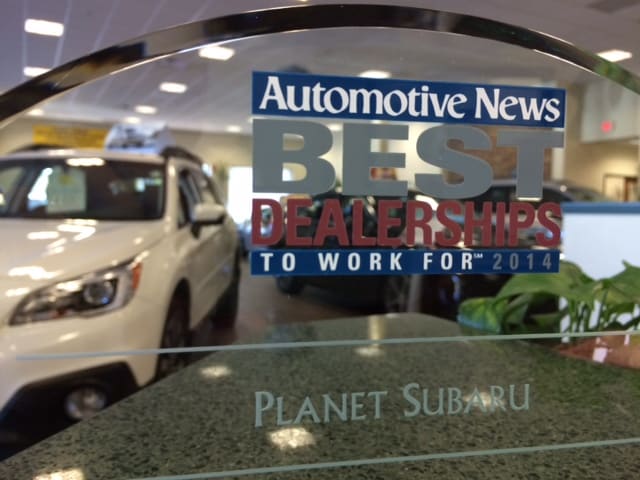 Automotive News named Planet Subaru as one of America's 100 Best Dealerships to Work For in 2014 and again in 2015. 


Watch the brief video.

---
| | |
| --- | --- |
|   | The Boston Globe invited over 2,000 Boston-area companies, in all industries, to participate in its "Top Place to Work." Only 100 were selected.  Planet Subaru was named to the Small Companies list at #17.    |
---
Current Openings


Subaru Technician

Planet Subaru is seeking one experienced technician not because anyone left but because we're growing like crazy.
Technician experience is required.  Franchised auto experience is preferred but not required. Subaru experience is not required...we will help you learn the product. Compensation is flat-rate and amount is determined by experience/ability.
The work week is five days per week, 40 hours per week, including most Saturdays. Benefits include health insurance, paid vacation, and partial 401K matching. We have a beautiful facility with an air-conditioned shop.
Planet Subaru is a very special dealership. We have very low turnover and very high quality of life. To learn more about our unique philosophy, visit planetsubaru.com.
Planet Subaru has many women on its sales and service teams and we encourage women to apply.
Please email your resume with a brief note about your interest in the position to Service Manager Matt Ryan:  matthew@planetsubaru.com


Service Administator
DESCRIPTION:
As Planet's service department administrator, you will greet customers who need their vehicles serviced, help them get checked in, answer phones and set up appointments, provide loaner cars to customers (including driving cars around the lot) and pitch in, as needed, to keep the service department running smoothly. In addition to interacting with people all day, there is also filing and data entry.
EXPERIENCE:
Prior automotive experience is not required, but is helpful. The more you know about dealerships and vehicles, and the more passion you have for them, the less training you will require. But we will train the right person.
THE RIGHT PERSON
The ideal candidate likes cars, is eager to learn new things, likes to be busy, has an upbeat attitude about life, can handle the occasional grumpy customer, enjoys the pleasure of delighting customers, is smart, professional, and polished. We are looking for those who see a career in our business, not just a job until something else comes along.
GROWTH OPPORTUNITIES
Because we promote almost exclusively from within, this position is the first place we look when we have an opening in the service department with more income and responsibility. In fact, we are currently hiring because we are promoting the current occupant of the position.
TYPICAL DAY
Mornings are quite busy with customers dropping off their cars and calling to schedule appointments. The first couple hours go by fast because you want to get customers in and out quickly. By late morning, you're processing paperwork, including some data entry and filing. Toward the end of the day, it gets busy again as customers return after work to pick up their cars and pay. It's fast paced and you don't spend much time sitting around.
SCHEDULE
The schedule is approximately 40 hours per week, Monday through Friday, 8am to 4:30pm. Occasionally you'll be needed on a Saturday, and when this happens you would take a different day off during the week. The service department is closed Sundays.
LOCATION
Planet Subaru is located in Hanover, approximately 20 minutes southeast of Boston.
Please e-mail your resume to Dale Lathrop at dale@planetsubaru.com and INCLUDE A BRIEF NOTE OR COVER LETTER ABOUT YOUR INTEREST IN PLANET. We will respond to qualified applicants with a list of FAQ's about the position.
---
Low Turnover
The Planet stores have very low turnover so we rarely have many openings.  We do add positions as we grow, however, and typically work off a waiting list, so if you would like to be considered for a future opening at Planet Subaru in Hanover or Planet Chrysler Jeep Dodge Ram in Franklin, please send your resume to 
Jeff Morrill
with a brief note about the position you would be interested in.  We will contact you when we have an opening.  We endeavor to include team members people who are not well represented in dealerships including women, minorities, and veterans. 
---
Review openings at our sister store
, Planet Chrysler Jeep Dodge Ram in Franklin. 
---
Resources