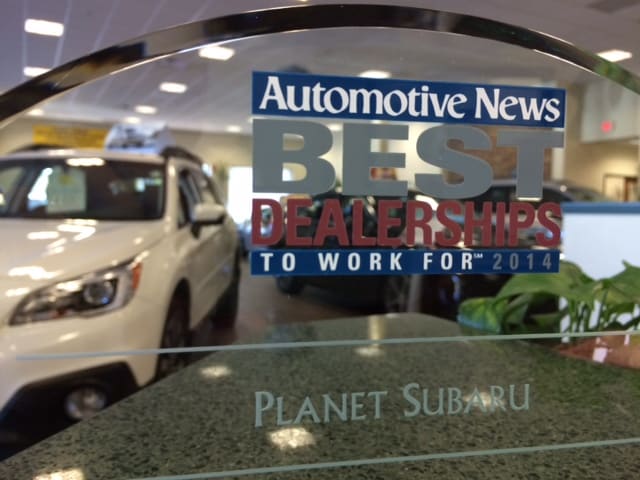 Planet Subaru was named as one of America's 100 Best Dealerships to Work For. 


Watch the brief video.

---
Openings:

Accounting Office Assistant
Planet Subaru needs full time help in the accounting department.
JOB DESCRIPTION:
Most duties involve data processing with documents and on the computer, including basic accounting, and processing of Massachusetts motor vehicle transactions on the DRIVE program. The work is quite varied so it is not tedious. However, it very detailed oriented and errors can cause a lot of problems. Schedule is five days (Tuesday through Saturday), 40 hours per week during normal office hours. You will be joining a team of three people in the accounting office who enjoy their jobs and create a pleasant atmosphere in a nice sunny facility. Pay is $13 to $16 per hour depending on experience. We offer health and dental insurance, 401k, and paid vacation.
JOB REQUIREMENTS:
Ability is more important than specific accounting or dealership experience, but you must have computer literacy with Microsoft Office, organizational skills, and efficiency and accuracy with detailed paper work. You must enjoy an environment which is sometimes fast-paced, and get along well with others. Car dealership and general office experience are helpful; no accounting experience is required. You must be able to pass a criminal background check.
APPLICATION INSTRUCTIONS:
Please e-mail your resume with a brief note about your interest in the position to planetsubaruresume@gmail.com.



Purchase Partner (what other dealerships call a salesperson)

Planet Subaru is looking for a special man or woman who will fit into our not-so-typical team. Are you smart, professional, and polished, want to make a good living and have fun doing it?
Sales Guides at Planet Subaru sell cars. But before you think you know what kind of people we are, read on. We are unlike any other salespeople in this business. We are the "undealership," the alternative to the tricks and games found at other stores. We intentionally draw our salespeople from outside the car business so we can teach you our unique and ethical way of selling cars.

Here's a review from one of our customers: "Guys: I just wanted to take a moment of your time to tell you what an awesome team of folks you have working for you. Scott Chandler worked with me to make the buying experience a pleasure. I read a lot about your dealership online and wondered if what you stated would be true. I must say your philosophy shows all throughout your dealership but more importantly it radiates from your team."
We have a diverse team of women and men from all walks of life. Of the ten women on our dealership team, three of them are salespeople. In fact, a woman is our top seller! Former backgrounds of our Sales Guides include: Enterprise Rental Car Branch Manager, Hollywood movie director (no kidding!), cell phone salesperson, art gallery owner, investment professional, and a recent college grad. We have barely any turnover, and the longevity of our team members says a lot about the quality of life here.

That's why we are looking for someone who sees a career in our family business--not just a job until something else comes along. Someone who believes in our mission to be friendly to our customers and the environment (from a solar-powered showroom to goatscaping); Someone who has dedication, determination, and can hang with the dogs. (Literally, have you met our canine greeter Blue?)
Please send a resume with a brief note about your interest in Planet to Dale Lathrop, General Sales Manager, at dale@planetsubaru.com.

---
Review openings at our sister store
, Planet Chrysler Jeep Dodge Ram in Franklin. 
---
Low Turnover
The Planet stores have very low turnover so we rarely have many openings.  We do add positions as we grow, however, and typically work off a waiting list, so if you would like to be considered for a future opening at Planet Subaru in Hanover or Planet Chrysler Jeep Dodge Ram in Franklin, please send your resume to 
Jeff Morrill
with a brief note about the position you would be interested in.  We will contact you when we have an opening.  We endeavor to hire people that are not well represented in dealerships including women, minorities, and veterans. 
---
Resources