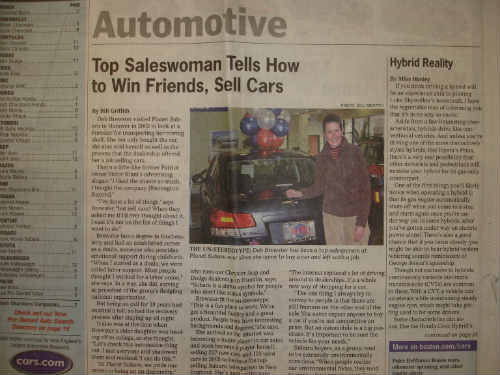 Boston Globe, Front Page of the Automotive Section

Bill Griffith for The Boston Globe
Deb Brewster visited Planet Subaru in Hanover back in 2003 to look at a Forester for transporting her rowing shell. She not only bought the car but also in the process, sold herself so well, the dealership offered her a job selling cars.

That's a little like former Patriot owner Victor Kiam's advertising slogan, "I liked the shaver so much, I bought the company [Remington Razors]."

"I've done a lot of things," says Brewster, "but sell cars? When they asked me if I'd ever thought about it, I said it's not on the list of things I want to do."

Brewster has a degree in biochemistry and had an established career as a doula, someone who provides emotional support during childbirth. "When I first started as a doula, we were called labor support. Most people thought I worked for a labor union," she says. In a way, she did, serving as president of the group's fledgling national organization.

But being on call for 18 years had exacted a toll; so had the recovery process after staying up all night.

It also was at the time when Brewster's older daughter was heading off to college so she thought, "Let's check this automotive thing out. I met everyone and shadowed them and realized, 'I can do this.'"

"At Planet Subaru, we pride ourselves in being an un-dealership," says co-owner Jeff Morrill. "We only hire people who've never sold cars before. We want to be different from the stereotype. My brother John, who runs our Chrysler Jeep and Dodge dealership in Franklin, says, 'Subaru is a status symbol for people who don't like status symbols.' "

Brewster fit the un-stereotype. "This is a fun place to work. We've got a beautiful facility and a great product. People here have interesting backgrounds and degrees."

She arrived as the internet was becoming a major player in car sales and soon became a player herself, selling 227 new cars and 123 used cars in 2005 to become the top-selling Subaru salesperson in New England. She's kept up the pace, remaining in the Top 10 or 15 every year since.

"My role here evolved with the internet's role in car sales," she says. "The internet replaced a lot of driving around to dealerships. It's a whole new way of shopping for a car.

"The one thing I always try to convey to people is that there are still humans on the other end of the sale. You never expect anyone to buy a car if you're not competitive on price. But an automobile is a big purchase. It's important to be sure the vehicle fits your needs."

Subaru buyers, as a group, tend to be extremely environmentally conscious. "When people realize our environmental focus, they tend to come a long way to see us," says Brewster. Half of the dealership's 11-acre site is planted in hardy grass and wildflowers that don't require watering. The security "fence" is a sturdy barrier of black raspberry and other thorn bushes. The buildings are energy efficient with passive solar heating, windows that actually open, and highly efficient lighting systems.

"Those things are important to Subaru buyers," says Brewster. "People come from a distance, including one guy who drives up from Staten Island, N.Y., for service several times a year."

As the company's internet gatekeeper, Brewster finds herself shipping cars all over the country, often from the used car inventory. She meets prospective customers online. "Both the buyer and I understand this is a big purchase," she says. "I help them see the vehicle, both with words and lots of photos. I try to get a clear photo of even the tiniest flaw because any used car has some, and we don't want any surprises."

On a recent "quiet" Monday, Brewster fielded 10 new leads from the internet, exchanged emails with 18 other customers, sent out 41 emails of her own, made 80 outbound phone calls, and fielded 11 incoming calls.

Several of the outgoing calls were to customers who'd referred friends who bought cars. "There's nothing like word-of-mouth support," says Brewster. "One of the things we do here is try to give customers some perks, such as loaner cars, free tires for life, and gift certificates for referrals. I love making the call to ask a customer who made a referral whether they want a gift certificate for dinner or one for service here."

"This business surprises me every day," she says. "I love dealing with people."

Especially when she greets someone who's just come in the door and discovers it's someone she's been exchanging emails with for weeks. One imagines the feeling is mutual.

Read more news stories about Planet Subaru.