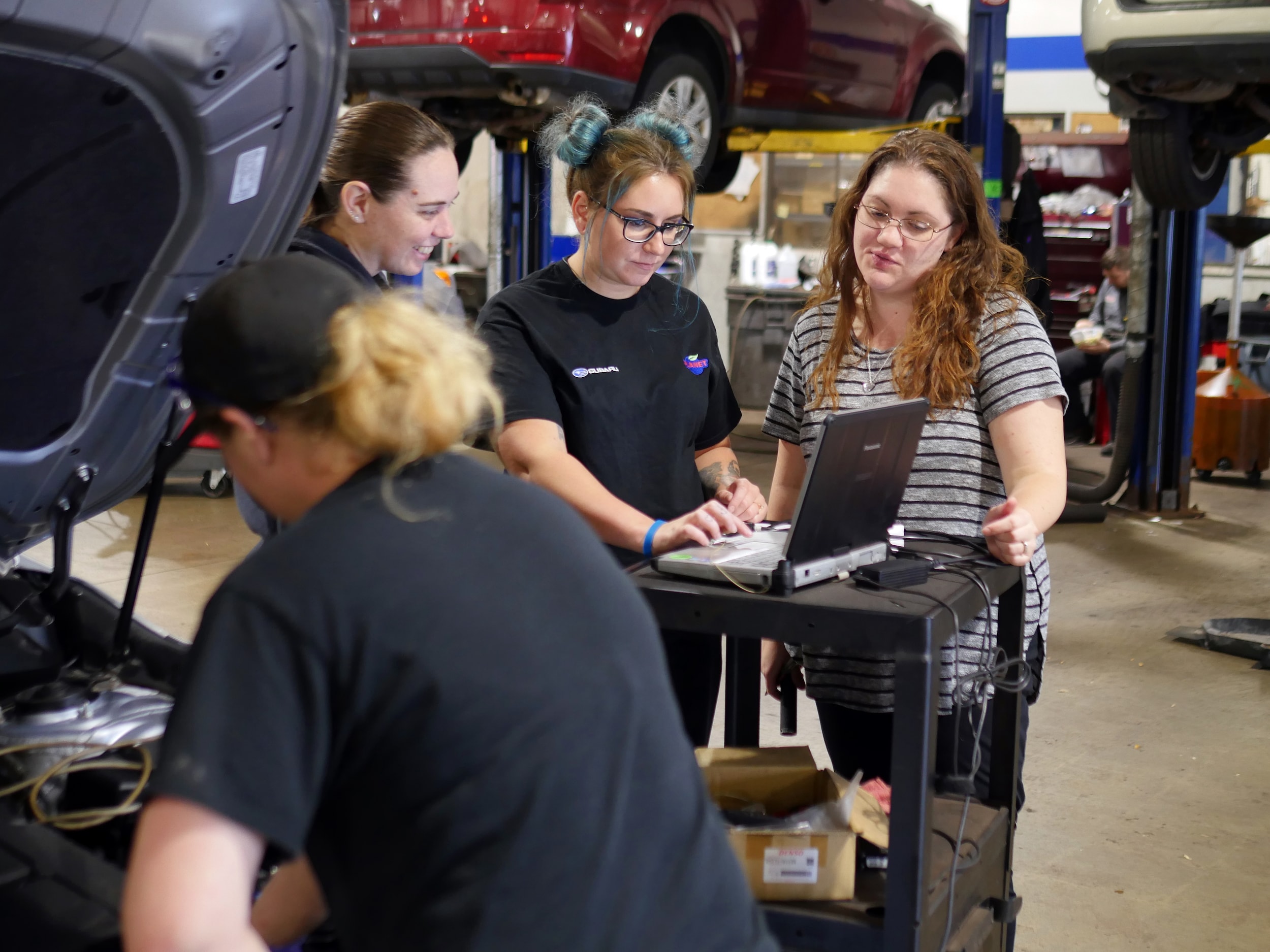 From left, Technician Tiffany Sullivan, Shop Manager Katie Stewart, Technician Vanessa Van Beek, Service Manager Christa Collins.

Automotive News Project XX Survey
Amy Wilson--Automotive News
Hiring with intent
Brothers Jeff and John Morrill aimed to create an inclusive environment when they opened Planet Subaru in 1998 in Hanover, Mass. Today, the dealership's ratio of women - 30.3 percent of all employees and 35.5 percent of sales reps - is well above the industry average.
Two of three service advisers, plus the service manager, are women.
Having more women on staff helps the leadership team make better decisions and attracts customers who like to work with women, Jeff Morrill said. Yet he notes that, even as progressive as he and his brother try to be, the dealership staff is not yet half women.
Planet Subaru tries to increase its number in part by recruiting women from other industries. Job ads explicitly say women are welcome and that the dealership will train whomever is hired. If a retailer limits itself to hiring only those with dealership experience, it will naturally have a harder time finding women because they haven't been included all along, Morrill points out.
"This is an industry where men still occupy nearly all the positions of power," Morrill said. "So until there are more women in those positions of power, it's really incumbent on the men to bring more women into the business so those women can be part of the decision-making in the future."
---
In the Automotive News Project XX Survey, 65 percent of women working at new-vehicle dealerships said they have been subjected to unwanted sexual advances during their careers. Forty-five percent said they've been passed up for new opportunities or promotions because of their gender. And 59 percent said they'd had their professional influence and credibility undermined by colleagues because of their gender.
The idea that auto retail is not a level playing field was echoed over and over.
"Women have to work harder to gain the respect of male and female employees as well as customers," one respondent wrote. "While to many it is 'refreshing' to have a woman in the dealership, her decisions are often second-guessed and undermined."
Another said: "The industry contains lots of 'old school' mentality, with old-fashioned biases. There have been times before I was the GM that I was treated like a personal assistant or secretary instead of a controller/CFO until the boundaries were set."
"My pay plan has never been equal to any of the male management staff," another respondent wrote.
Some survey respondents suggested generational change is starting to make a difference. Younger men are more open to hiring women for key roles and less prone to sexist behavior, they said. One respondent proposed that Northwood University teach a class on sexual harassment and discrimination as part of its automotive marketing and management program.
So why is sexism still so rampant at dealerships?
Put simply, it's a man's world. Women working in dealerships can quite literally be the only woman in their departments. "I have no female colleagues," one respondent wrote.
The NADA study backs up that claim. At the end of 2016, just 19.4 percent of dealership employees were women, up eight-tenths of a point from a year earlier. Of new hires, 22 percent were women, up two points.
The overall dealership ratio is that high only because women fill nearly 90 percent of office and administrative support roles. Of the nine key operational positions tracked by the study, women represented just 7.9 percent. For instance, women occupied 11 percent of sales consultant positions, up two percentage points. Women held 4 percent of sales manager positions, down one point.
---
In her nearly 30 years in automotive retail, Kathi Kruse experienced it all: unequal pay, promised promotions that never materialized, demeaning comments and outright sexual harassment.
She started working for dealerships in 1979 and quickly worked her way into management. Kruse recalls asking for a raise in the early 1980s - she kept the books and could see she was making half what male managers earned - but the answer was no. At her last dealership job, which she left in 2008, Kruse says her boss walked around her desk, grabbed her head and pushed it toward his crotch. He also reneged on a promise to give her 10 percent ownership in a store she helped the group acquire, she says.
"That's what got me out of retail," said Kruse, who now does consulting on social media strategy and retail operations in Newport Beach, Calif. "I'd had enough."
The National Automobile Dealers Association's 2017 Dealership Workforce Study, which hasn't been released publicly yet, shows that turnover among female employees was 46 percent in 2016, compared with 41 percent for males, according to an early version shown to Automotive News.
Among salespeople, the turnover rate was an astounding 96 percent for women and 71 percent for men.
Ted Kraybill, president of ESI Trends, a Largo, Fla., consulting firm that conducts the NADA study, said dealers are not doing enough to address this issue.
"There will be no real progress as long as the majority turn a blind eye and deaf ear to the macho, testosterone-charged sales culture that disrespects women customers and co-workers," said Kraybill, who noted that some automakers and dealership groups are showing glimmers of improvement.
Kraybill estimates overall turnover is an $8 billion problem for car dealers in the U.S. It costs a dealership nearly $20,000 on average each time a sales position turns over. The average dealership could gain $500,000 annually in gross profit by reducing turnover and improving retention, he said.
---
Risky business
There is real risk for dealers if those trends continue.
A toxic environment leading to lawsuits or Equal Employment Opportunity Commission complaints could cost a dealer his or her store. Dealerships that tolerate an uneven playing field also will lose talented employees who contribute to the bottom line - dealers say female sales reps often are top producers.
"Customers gravitate to me," one survey respondent wrote. "When asked why, they respond that they tend to trust a woman more."
A sales floor and management team devoid of women also can alienate customers. Women, said to influence more than 80 percent of vehicle purchases, want to shop in an environment that is comfortable.
When Aya Yasukawa-Dudzinski of Farmington, Mich., bought her most recent car, she made a point to avoid the Toyota dealership where she and her husband made their prior purchase. When her husband departed, leaving Yasukawa-Dudzinski to wrap up the transaction, the salesman immediately turned flirty, even wrapping his arm around her shoulders. Her latest purchase at another dealership also was handled by a man, but he was completely professional.
"I felt respected," Yasukawa-Dudzinski said. "It made all the difference."