Taken in 1998, right before we opened our original store in Norwell before we moved to Hanover.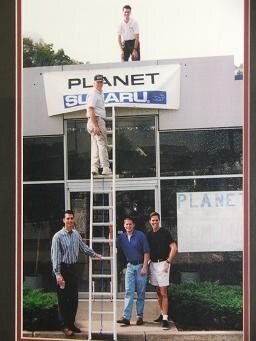 Welcome to our Planet!

The Planet AutoBiography by Jeff Morrill.
In 1998, my brother, John, and I quit our jobs, sold our houses in Virginia, borrowed against Dad's teacher pension, and relocated our families to Massachusetts...all to buy a Subaru dealership that had opened in February, closed in August, and had lost $400,000 in between.  A LOT of people said we were crazy.  But we had an idea whose time had come:  that folks would love an alternative to the pressure and the polyester at the typical dealership.

We came up with the
Planet name and "undealership" vision
around Dad's kitchen table.
Planet is now one of the largest Subaru dealerships on the planet.  Thanks go to our
exceptional team of people
who believe in our special way of serving customers; and to you, for driving past other dealerships because you believe that the nice guys and gals can finish first. Try life on our Planet!  
---
Search our inventory for your Subaru:
---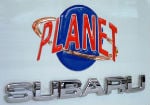 your
un
dealership
"Keep being the "undealership" -- a refreshing change from the all too predictable car dealer hard sale.  I can think of nothing you need to improve."
  --Nicholas C., Scituate, MA
Subaru owners who live in Boston, North Shore, Cape Cod, Brockton, and Quincy love Planet Subaru!