---

Two generations of Bowlby (Bob and Katie) with two generations of Legacy (2013 and 2009).  The Bowlbys have done business with Planet since we opened in 1998. 


---
Legacy in One Sentence:
Go for the Legacy if you need an extremely safe full-size sedan that's great in snow and rain, and gets great fuel economy. 
---
Overview:
Legacy is a sedan that is built on the same platform as the Outback. It is a full size car, comparable to a Toyota Camry or Honda Accord, but with all wheel drive. The Legacy offers an optional 2.4 liter turbocharged engine if you like to run with the big dawgs.  
---
Price:
They are priced from the upper $20s to the low $40s. 
---
What's new for 2023?
Shopping used? We have a page showing what was new for each model year:
---
Resources:
Peruse a fancy dynamic Legacy brochure.
---
Search our inventory for your Legacy:
---
Planet Exclusive Comparisons:

See
the Planet-exclusive quick model comparison chart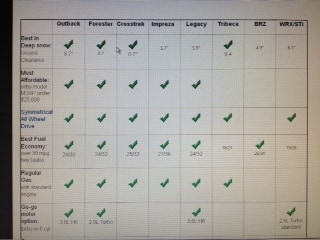 ---
Legacy through the years:
Introduced in 1990 as a small Japanese car, Legacy has grown in size and sophistication.  Through 2007, you could buy a Legacy sedan and a wagon, which got a little confusing since the more rugged Outback was also based on the Legacy platform.  (Making things even more confusing was the Outback Sedan, from 1997 through 2007).  Now, if you want a midsize sedan, you get the Legacy, and if you want a midsize wagon, you get the Outback. 

 
2020+

You would hardly know if from the sheetmetal, which bears similarities to the previous generation, but nearly every part on the car changed, including the chassis or "frame." Built on Subaru's Global Platform that now underpins most of its vehicles, this latest generation is much more crash-absortive and it rides like it's hewn from a single hunk of very strong metal. Infotainment screen goes big time and new features, such as Driver Focus, abound.
| | |
| --- | --- |
| 2015 through 2019 | Fifth generation increases slightly in size and now offers most room in its midsize sedan class.  Upscale interior abounds with technology and infotainment functions.  Airbag count rises to eight with the addition of seat cushion airbags that deploy from the flat part of the seat to hold front occupants in place during an accident. |
| 2010 through 2014 | Sales skyrocketed with the introduction of a much larger Legacy, every bit as big as segment leaders Camry and Accord.  Continuously variable transmission debuts and fuel economy jumps.  Eyesight appears in 2013. Optional six cylinder grows to 3.6 liters.  |
| 2005 through 2009 | Subaru refines this generation further, with better fuel economy, smoother ride, six airbags (including side curtains) and optional goodies such as navigation and a race-me-chase-me turbocharged engine. The Legacy Wagon sings its swan song in 2007, and thereafter Legacy becomes synonymous only with "Sedan." |
| 2000 through 2004 | Size remains the same, but Subaru irons out some goofy ergonomics from the last generation.  Larger 2.5 liter and side airbags become standard.  Styling and handling improve. |
| 1995 through 1999 | The second generation arrived with more interior room, and a more appealing exterior.  All wheel drive became standard in 1996.  |
| 1990 through 1994 | Introduced with a small 2.2 liter engine, you could order your Legacy in your choice of front wheel drive or all wheel drive, sedan or wagon.  But every one came with a boxy exterior and motorized seatbelts!  |
---
Exclusive Planet Benefits: 

---