The 2021 Subaru Love Promise Customer and Community Commitment Award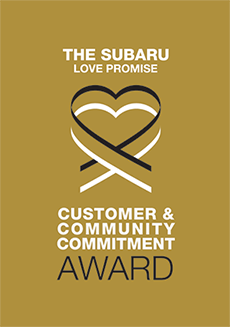 We've been nationally recognized for our dedication to our customers, our community, and the Subaru Love Promise.
We're honored to receive the 2021 Subaru Love Promise Customer and Community Commitment Award. This award nationally recognizes elite Subaru retailers who provide an exceptional customer experience at every interaction with Subaru. These retailers have also demonstrated an outstanding commitment to supporting passions and causes in their local communities in important areas such as the environment, community, health, education, and pets.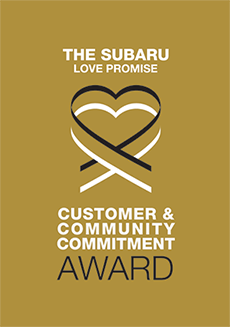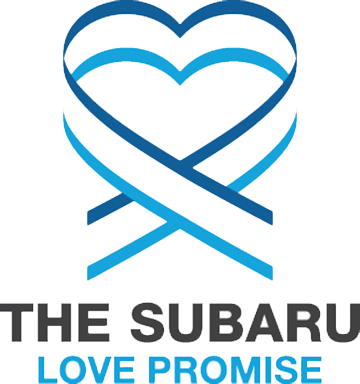 What is the Subaru Love Promise?
Subaru and our retailers believe in making the world a better place and the Subaru Love Promise is our vision of respecting all people. This is our commitment to show love and respect to our customers and to work to make a positive impact in the world.
How is Planet Subaru dedicated locally to the Love Promise?
You will see Planet's Love Promise in our commitment to minimizing our environmental impact and maximizing our contributions to the South Shore community.
Standish Humane Society, ASPCA, Mass Audobon, Manomet Center
NSRWA, Trustees of Reservations, Friends of Holly Hill Farm, Southeastern Massachusetts Pine Barrens Alliance, Blue Hills Trailside Museum
Assumption College, Whitman-Hanson High School, Milton Foundation for Education, Milton Library Foundation, Dean College
Big Brothers Big Sisters, Society of St. Margaret, Special Olympics, American Legion, Human Rights Campaign
Here for the Girls, Fenway Health, Massachusetts General Hospital, Mahila Partnership, Beth Israel Deaconess NICU
Love Promise Stories from Planet Subaru
Subaru and Planet Subaru believe in making a positive impact on the communities in which we live and work. We uphold that belief through our Love Promise Community Commitment. Every month, we select inspiring stories from customers and partners from around our area who strive to support our collective commitment and feature them here
Planet Subaru to the rescue! - Joyce K
On the morning of February 2, 2021, we received a call from a local animal control officer reporting that people had thrown three kittens out of their moving vehicle. The officer collected two of them but the third ran away. Animal control offices do not have the financial resources or the staff to rescue all the abandoned animals in their towns, or to ensure they get the care they need, so the officer asked us at Standish Humane Society to take the two cats, and we tracked down the third in a trap. We immediately placed them in an experienced foster home and began our assessment. One of the kittens required emergency care after sustaining spinal injuries. The others two were nursed around the clock. Once they've fully recovered, we will place them in forever homes where they can live out the rest of their lives in a safe, loving environment. Planet Subaru provided all the funding for this particular effort and many more. Thank you Planet, we couldn't do this without you!
---
Planet Wrote the Book on Ethical Business - Tom C
Planet Subaru literally wrote the book on building an ethical business. To inspire other entrepreneurs and help them take the high road to the bottom line, we are pleased to publish the Planet story in Profit Wise: How to Make to More Money in Business by Doing the Right Thing. Co-Founder Jeff Morrill shares the principles and techniques that Planet Subaru used to create the world's first "undealership"—the alternative to the typical dealership experience. He shows business owners how they can earn a good living and serve their communities. Putting his money where his mouth is, Jeff is donating all his royalties from the book to charity. His words that conclude the book illuminate the values that make Planet Subaru an example for other businesses to follow. "While you earn a living, remember that financial achievements constitute only a small part of a worthwhile life. Honorable businesses consider the needs of everyone who depends upon them, and they serve causes nobler than just the bottom line. Companies that harm people or the Earth in wanton pursuit of profit are little more than wrecking balls. The world as we know it will not long endure if short-term self-interest drives every decision. As my father says about creating and sustaining a just society, we need institutions to function with 'love in the model.' My father was a teacher, and he devoted his professional life to growing knowledgeable, ethical citizens. When he speaks of incorporating love into the model, he means we should pursue our goals with empathy and compassion. Otherwise, what is all the achievement for? Your life is a brief candle. Cast light where there is darkness, and share your flame with the world by living with love in your model."
---
Planet Subaru helps Ocean the kitten - Joyce K
My name is Ocean. I was born to a feral Mom outside in Whitman. Feral means my Mom was never socialized or domesticated to be a pet. She lived outside and was never spayed. She had lots of babies, including me. When I was born my Mommy nursed me until I was old enough to walk around. Then I began to explore the yard and woods. The humans started to see me and put food out for me every day. I began to trust them and allowed them to pet me and play with me but they didn't bring me inside. Sometimes bigger animals chased and scared me at night but I tried to be brave. I heard the humans talking to an animal shelter on the phone. The animal shelter told the humans to bring me to them so they could get me my vaccinations and my spay appointment but the humans did not want to do it. They thought I was cute and wanted to keep me in the yard. I heard the animal shelter try to educate the humans on the dangers of me being outside including cars, fleas, ticks, predatory animals like hawks and coyote, feline leukemia and feline aids but the humans just said they would think about it. They did not want to surrender me but they could not afford to take care of me either. The animal shelter tried to tell the humans they could help to trap my Mom and stop her from having more kittens like me too. They offered to trap her, spay her, let her recuperate in a safe place and then return her to their yard but they did not do that either. I'm sad that my Mom will continue to have more litters outside. It's a hard life. Sometime after that phone call, I was just chasing a bug like I always do and next thing I knew I was bumped so hard by that whizzing car. My leg hurt. I dragged myself over to where the humans live and cried for a long time until they came. They saw that I could not walk and I tried to tell them how badly it hurt. They put me in a box and the humans were crying. They called that animal shelter again and the nice people said to bring me to their emergency veterinarian right away. The animal shelter paid for me to be seen by doctors and they got me pain medicine, and got all the fleas and ticks off me. They were so nice to me but I heard them say I needed a big surgery. They said they were going to try to save my leg. I sure was happy to hear that because at just four months old I probably need my leg to run and jump and climb, don't I? But then I woke up and heard the doctors saying they could not save my leg. They said I was a cute Tripod. I did not know what that meant at first but I soon learned that I have three legs now instead of four. It's o.k. though, after just a short amount of time I was up and about and guess what? I have the best news. I can still run, jump and climb. And you want to know what else? A Veterinary Technician that assisted in my surgery chose to adopt me. My new family renamed me Cheddar. I am now living indoors in my forever home and I love it. This tripod is safe, warm, well fed and loved. I do want to thank Standish Humane Society for trying to educate my first humans, for all the money they had to spend to fix me up, for trying to keep me safe and for trying to spay my Mom. I hope more humans listen to you. I also want to thank Planet Subaru in Hanover for providing Standish Humane Society with the funds they needed to pay for my surgery. I was in a great deal of pain that day when I got a hit by a car and without the money to pay for my surgery I don't know what I would have done. Thanks for making Standish Humane Society a benefactor of your Share The Love Campaign so they can help others like me in the future too.
---
Planet raises and releases 500 Northern Bobwhites - Mark N
In what has become an annual event, Planet Subaru undertook the raising of 500 Northern Bobwhite Quail (Colinus virginianus) and released them all at once, at the dealership's 11-acre facility on Route 53. Customers, community members, and students from the Accord Park school helped the quail find their way from the cages and into the dealership's Certified Wildlife Habitat. The conservation status of this species is "near threatened," so Planet Subaru has made a multi-year commitment to reestablishing them on the South Shore, and the investment is paying off. Residents from as far away as Hanson are reporting that they are hearing the distinctive Bobwhite call after many years of silence. The quail release is just one of many creative environmental initiatives undertaken by the Planet team. Their facility is the first Subaru showroom powered entirely by the sun, they use goats for landscaping, and they have a fruit orchard and extensive nature trail right on the dealership property.
---
Planet Wins Sustainability Award/Grant - Jessica B
Cox Automotive presented its annual 2020 Leader in Sustainability Award to Planet Subaru, a retailer south of Boston that offers itself as the "undealership." The award recognizes a dealership for outstanding in-dealership sustainability programs related to waste reduction, energy or water conservation, with a focus on innovation, creativity, and engagement with its employees and the community. The award was presented by Cox Automotive President Sandy Schwartz, who said, "I am pleased to present the Leader in Sustainability Award to Planet Subaru for raising the bar on sustainability standards and implementing green business practices that make a measurable difference," said Schwartz. Planet Subaru has a long legacy of sustainability. For example, in 2011, Planet Subaru became the first Subaru showroom powered entirely by solar panels on the roof. Over the years, Planet Subaru has implemented numerous sustainability efforts and programs, including: LED lighting throughout the dealership to shrink energy consumption, landscaping by goats, a certified wildlife habitat by the National Wildlife Federation, a nature preserve and walking path, raising and releasing hundreds of endangered bobwhite quails annually on the property to restore their population in New England, the creation of an orchard by planting more than 40 fruit trees on the property and working with a local school to produce the harvest, and unusual waste management practices including on-site composting and recycling all used oil filters to prevent 350 gallons of oil from entering the eco-system annually, even though it costs more to recycle than to discard them. In addition to its sustainability efforts, Planet Subaru also focuses on hiring members of groups traditionally excluded from the opportunities in automotive retail. For example, women comprise over 30% of its 80-person team, including 6 full-time female technicians, more than any other dealership in the United States. Planet Subaru co-founder Jeff Morrill said, "Cox Automotive chooses only one store per year from among thousands of franchised dealerships nationwide to receive its sustainability award, so Planet Subaru gratefully accepts this honor. We don't do it for the recognition, but we appreciate the opportunity to acknowledge our team and inspire our peers to pursue green projects." For leadership in promoting green business practices and making a difference through community service, Planet Subaru will receive $10,000 to fund a sustainability project, as well as receive an energy audit from the Cox Conserves team. The dealership will use the grant to install a living wall in the service department.
---
A Heart-warming Tail - Klaire P
Using funds provided by Planet Subaru, Standish Humane Society accepted sixteen cats from our sister shelter in Florida. Already at capacity and needing room for an influx of animals displaced by the active hurricane season, they needed help immediately. Standish took responsibility for preparing the cats for adoption and finding "forever homes" for them. After relocating the cats, providing veterinary care, and training them in basic litter-acy, Standish began to place them. With purr-fect timing, Planet Subaru team members stepped forward to adopt the first three cats, Tater Tot, Simba, and Oreo. Standish has already placed most of the remaining cats. Because of this success, we are planning to repeat the whole process with our sister shelter. Planet Subaru has pledged funds to continue this successful initiative. We thank the Planet team for all of their contributions, adoptions, and volunteer hours over our five years of partnership to make paws-ible our mission of "speaking for those who cannot speak for themselves."
---
Quailure is always an option! - Rhonda S
The "green team" at Planet Subaru undertook the raising of fifty Northern Bobwhite Quail (Colinus virginianus) and recently released them into the dealership's wildlife habitat. Customers, community members, and students from the Chapman Farm school helped the quail find their way from the cages and into nature. Northern Bobwhites travel in coveys and run across the ground from the shelter of one shrubby patch to another. When fully grown, they are a little larger than a robin but smaller than a crow. The quail population is threatened throughout their native New England range by habitat loss, but they are thriving at the dealership with its combination of forest, grassy areas, and rain gardens. Everyone appreciates their sonorous calls, distinctive plumage, and their prodigious ability to eat ticks! The green team is already at work raising 250 more to release this summer. Planet Subaru is a Certified Subaru Eco-Friendly Retailer.
---
Planet establishes a fruitful partnership - Mark N
Planet Subaru planted over forty mature fruit trees along with vines and edible flowers throughout the dealership's ten-acre campus, near their on-site nature trail. Fruit varieties include Asian pears, peaches, persimmons, heirloom apples, blueberries, blackberries, and raspberries. Planet Subaru funded the installation while receiving planning assistance from the Boston Food Forest Coalition, a non-profit community land trust dedicated to promoting food justice and sustainable urban agriculture. Students from another area non-profit, the Chapman Farm School, helped plant the forest. They perform all farming duties. Planet Subaru initiated a partnership with the school after they lost their namesake farm and needed land for the children to steward. The school focuses on special children who learn best outside a conventional classroom. The kids ensure the plantings receive everything they need to thrive and produce fruit, with the bounty destined for local food banks. A food forest is a sustainable land management system that mimics a woodland ecosystem, focusing on food-producing trees and shrubs. In a food forest system, edible plants produce healthy food, attract pollinators and pest-controlling insects, and build healthy soil by providing nitrogen and mulch. The Boston Food Forest Coalition seeks to revive and conserve Boston's established legacy orchards, as well as create new edible food forest sites. Planet's food forest is the newest installation in the Coalition.
---
Planet Subaru donates Forester to the NSRWA - Lori W
Planet recently donated a Subaru Forester to the NSRWA, with a trailer hitch, roof rails, and crossbars, ready to haul their various kayaks and other watercraft. NSRWA Executive Director Samantha Woods said, "This gift couldn't have come at a better moment in our evolution. Our strategic plan calls for a program vehicle to support our in-school education and community outreach events. This car will help us reach more people with our message to protect our waters. Partnering with Planet Subaru makes sense – they share in our vision of engaging people outdoors so they will learn to love and protect it." The Forester's versatility and off-road capability will come in handy since much of the area's riparian habitat is protected from development. Lori Wolfe, NSRWA Director of Marketing and Communications, said, "It's fun to watch everyone turn to watch the car go by, and it's a great advertisement for our organization and the important work we do." Planet Subaru General Manager, Dale Lathrop, said, "Our 'row-mance' with the NSRWA dates back almost twenty years as members, and we've partnered with them previously on many projects, including a comprehensive facility upgrade to conserve water in our building. It's a big deal for us to donate a Subaru — we've never been able to do that for an organization before — and we know this Forester will reliably serve the NSRWA for many years to come." Planet Subaru earned Subaru's comprehensive Eco-Friendly Retailer Certification and is well known for other environmental initiatives including its solar-powered building, landscaping with goats, wildlife re-introductions, and an orchard planted right on the dealership property.
---
The Ruby Trail - Debbie L
Situated on its forested property, Planet Subaru created a nature trail for the benefit of its team members, customers, and local residents. The National Wildlife Federation has designated this area of the dealership as a Certified Wildlife Habitat. Nearly a half-mile in length, the trail conserves territory for a variety of flora and fauna, including a rare, protected species of lady slipper orchid. Amidst the sylvan beauty, walkers scamper over two colonial-era stone walls and may encounter coyotes, fox, wild turkeys and even ospreys near the rain garden. Planet Service Specialist, Mark Negron, designed the trail and named it after his daughter who loves the outdoors. He said, "I was a customer before I joined the team, and I've always appreciated Planet's long-term commitment to considering the environment in its business decisions. I'm very proud of what we're doing here for recreation and education." Planet Service Manager, Christa Collins, said, "I'm a working mom, and I lead 26 people here…sometimes I just need a few minutes to catch my breath and think. That I can take a walk in the woods, just steps outside the door, is a blessing. And many of our customers wait while their cars in service…I've heard we have the nicest 'service lounge' anywhere!"
---