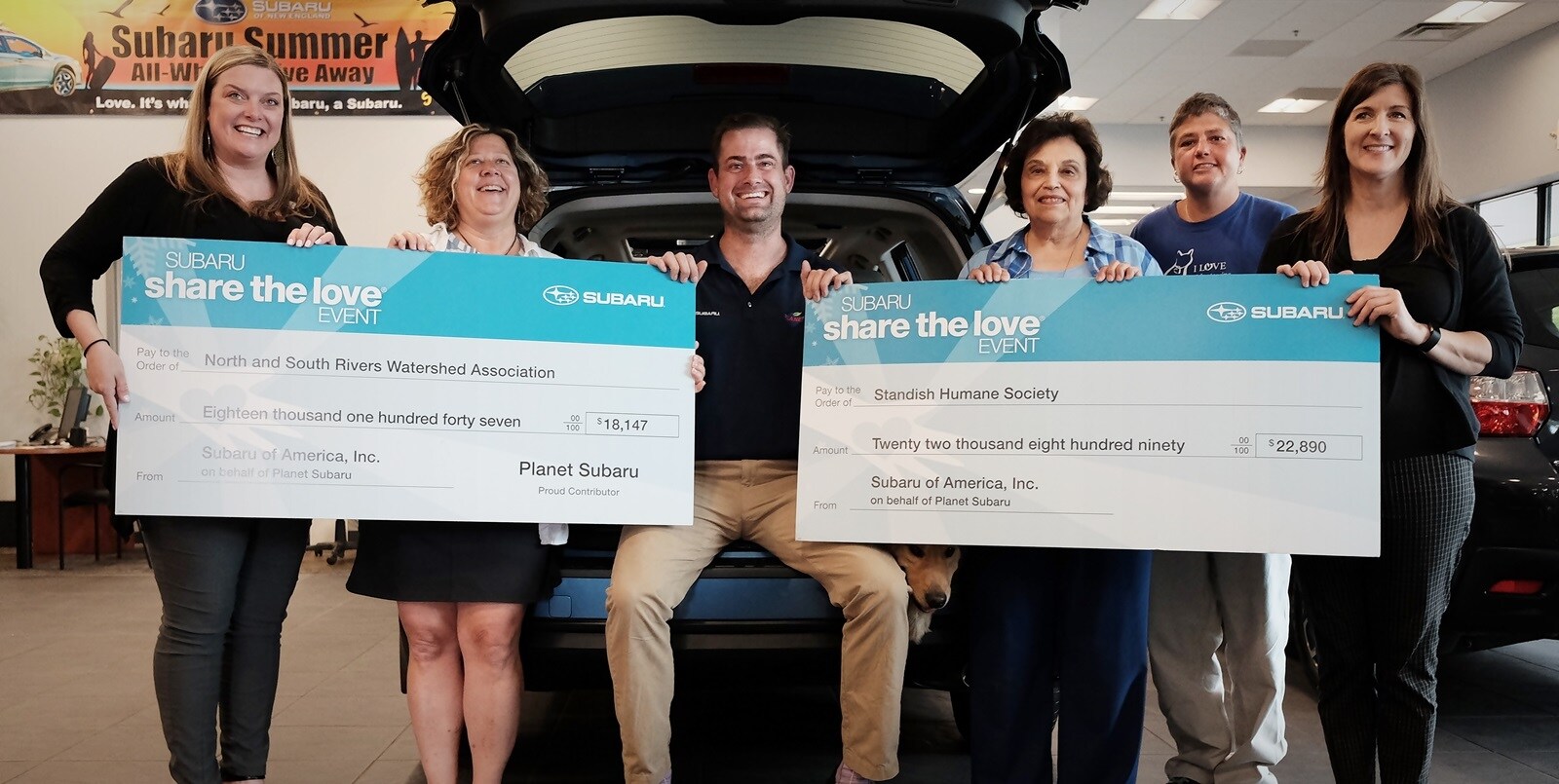 by Kate Walsh
Norwell Mariner
The North and South Rivers Watershed Association are mobile and increasing their visibility everywhere they go, thanks to Planet Subaru of Hanover. The dealership donated $18,147 to the organization, which was used to purchase a Subaru Forester compact sport utility vehicle.
Wrapped in graphics and used by the organization for their outreach and education programs, the vehicle made its debut at the South Shore Striper Tournament and drew attention at the "Letting the Rivers Flow" movie premiere.
The top of the car is fitted with a rack to hold kayaks for NSRWA paddling events.
"We've been members of the NSRWA for almost 20 years," said Jeff Morrill, co-owner of Planet Subaru. "The organization helped us a while back with a water conservation project to help the company save water."
The car will aid the NSRWA with their outreach programs, including their Water All Around You and Estuary Explorers programs.
"This car will help us reach more people with our message to protect our waters," said NSRWA Executive Director Samantha Woods.
The money was raised through Subaru of America Inc.'s "Share the Love" campaign which donated $250 for every new Subaru vehicle sold or leased during the last five weeks of the year to a customer's charity of their choice.
"Share the Love" is in its fifth year; the dealership donated the proceeds to the Standish Humane Society for the first three years and last year gave to the Trustees of Reservations along with the SHS.
"Being chosen as one of the Planet Subaru's hometown charities is a real honor-and it couldn't have come at a better moment in our evolution," Woods said. "Our strategic plan calls for a program vehicle to support our in-school education and community outreach events."
The insurance for the Forester has been donated by Gordon Atlantic.
"All of us at Gordon Atlantic make our homes here on the South Shore, and we love the work NSRWA does to protect these rich natural and recreational resources here, right where we live," said Geoff Gordon, the CFP at Gordon Atlantic.
"It's a real head-turner," said Lori Wolfe, NSRWA director of marketing and communications. "It's fun to watch everyone turn to watch the car go by, and it's great advertisement for our organization and the important work that we do."