FOR IMMEDIATE RELEASE

World's first composting hybrid vehicle on sale now only at Planet Subaru.

Click here to see more of of Planet's world famous April Fools Day spoofs.
 


Business end of the Planet Subaru BRZMFDGTSE


 


Dr. Emmett Brown demonstrating fueling procedure

 
Badging is subtle and tasteful.




CH4 is molecular formula for methane.


 

Green and mean. 

 

Golf clubs go on the roof, buddy. 




Close-up of the methane fusion generator.

 
Crazy s*** starts happening at 88mph.




  

Remember this from chemistry class?  We didn't either.  That's why we're car dealers instead of professors. 




This graphic explains how compost converts to methane




Fuel of the future!

Hanover, MA -- Planet Subaru, "your undealership," has engineered and produced Subaru's first hybrid vehicle and the world's first composting hybrid.  The 2015 BRZ Methane Fusion Drive GT Special Edition, or BRZMFDGTSE for short, is available for sale only at Planet.

Planet Subaru is a long-term leader in green retailing; among many other initiatives, it operates the only Subaru showroom in the world powered entirely by the sun. 

Driving the rear wheels is a 200-watt electric motor powered by a trunk-mounted fusion generator that converts compost into methane.  Driving the front wheels is the stock 2.0 liter gasoline boxer engine.  Subaru's  Lineartronic continuously variable transmission manages the torque split.  The stock BRZ is the only vehicle in Subaru's line-up without all wheel drive, so Planet installed the symmetrical all wheel drive hardware from an Impreza, the BRZ's chassis mate.  To keep all that power on the road, Planet included Vehicle Dynamics Control and X-Mode.
Planet Subaru Sales Manager, Corey Warren, explained the genesis of the vehicle:  "Methane gas is a potent global warming agent, trapping atmospheric heat by an order of magnitude greater than carbon dioxide.  Methane gas generates naturally from the decomposition of organic material.  So why not power our cars with it and mitigate global warming at the same time?"
Lots of work goes into producing an all new vehicle.  To comply with federal regulations, Planet needed to add pages to the regular BRZ owner manual.   Here are a few:

  Electric sparks and flammable

methane gas are an explosive mix. 

Use caution when operating

electronic equipment near the

vehicle.

 


Bringing along horses to supply
compost

might seem like a good

 idea with a composting car, but unfortunately the drivetrain is not

designed for towing. 

This BRZMFDGTSE is so aggressive
that it will chomp on you with its
trunk jaw if you're not careful.    





The BRZMFDGTSE's performance envelope exceeded expectations during testing.  Dr. Emmett Brown, Performance Editor from Car & Track Magazine, said, "We took the car to New Hampshire Motor Speedway in Loudon and absolutely carpet bombed the drag strip.  I mean, we were just blowing the doors off of everything.  A 9.5 second quarter mile in a Subaru?  Wicked fast!  People were commenting about the strange exhaust smell, though.  I'm not sure how to say this delicately; it kinda smells like farts."   

Not just any dealership would undertake such an ambitious challenge.  Planet Subaru Purchase Partner Jaime McGuinesss said she was first attracted to Planet Subaru because of its "undealership" philosophy, offering a revolutionary customer service experience not found at a typical dealership.  "It meant a lot that a car dealership would work so hard to recruit women and also care so much about the environment.  Now that we offer a car that you can power with compost from the farm, maybe we should change our tag line to "Planet Subaru: We really make s*** happen!" 

 Technical Specifications
2015 Planet Subaru BRZ Methane Fusion Drive GT Special Edition (BRZMFDGTSE)
Base price: $29,998

Vehicle layout: Front engine, rear drive, 2-door sports coupe

Engine: 2.0L Boxer horizontally opposed four cylinder gas engine with 200kw Direct Current Electric Brushless Power Plant (Methane Fusion)

Power profile:  Triple Propulsion (Gasoline, Electric, Methane)

Output:  432,000 Calories.  

Transmission: Lineartronic Continuously Variable

Curb weight: 2809 lb
Coefficient of Drag: .29
Wheelbase: 101.2 in

Length x width x height: 166.7" x 69.9" x 50.6"

0-60 mph: 2.5 sec (with vegetarian refried beans and premium gasoline) 
Quarter Mile: 9.5 seconds
Top Speed: 228mph

EPA city/hwy fuel econ 58 city, 67 highway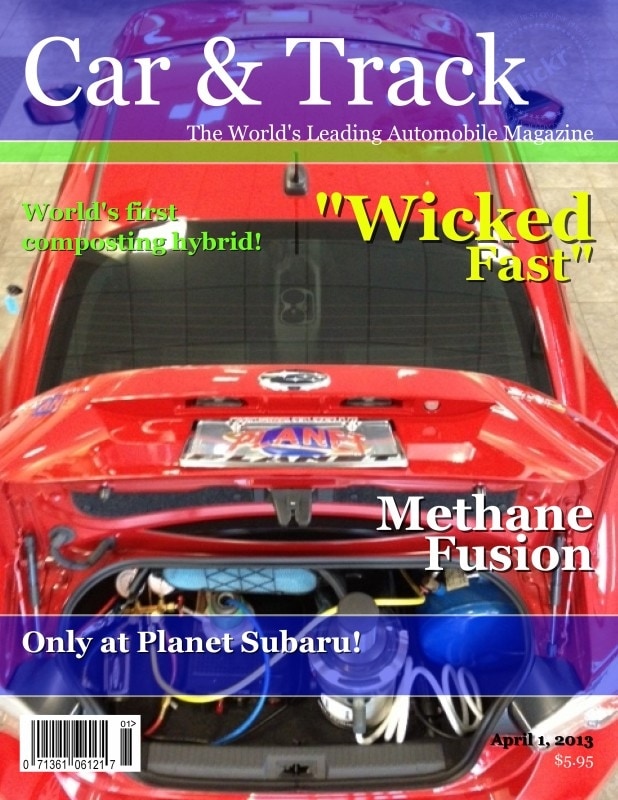 Disclaimer
When we set out to build a composting BRZ, everyone, including Subaru of America, warned us against it, saying it couldn't be done.  Turns out, it couldn't. 

If you haven't figured it by now, this is an April Fool's joke.  The BRZMFDGTSE does not exist, nor does the Methane Fusion Generator inspired by the movie "Back to the Future."   But, believe it or not, the solar powered dealership really does exist! 

While you're here, visit prior years' Planet Subaru April Fools media releases or look at some of our other innovative exclusive content. 

About Planet Subaru:
Planet Subaru, a Hanover, Massachusetts-based franchised dealership, is one of the largest Subaru showrooms in the world and the only one powered entirely by the sun. 
Widely acclaimed
for
customer service excellence
and
environmental stewardship
, Planet is "
your undealership
," the alternative to the typical dealership.  Planet Subaru's sister store, Franklin, Massachusetts-based
Planet Chrysler Jeep Dodge Ram
shares the Planet Subaru philosophy.