What is a Subaru boxer engine and how is it different than the engine in a mortal car?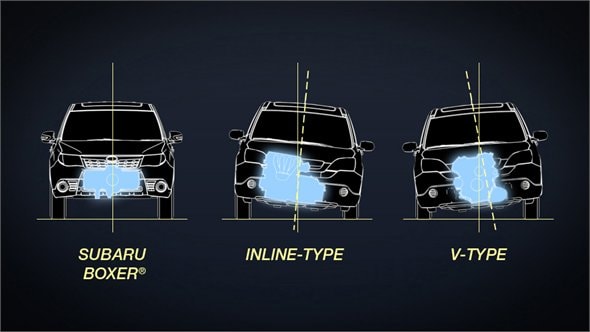 See how the cylinders lie flat?


See how tall the inline engine is? 
Ever tried standing up in a canoe?

 
This V configuration is also quite top heavy.

---
In most cars built nowadays, the cylinders that generate power are arranged like wine bottles standing straight up.  This is an "in-line" configuration.  In a "V6" or a "V8," the cylinders are arranged at an angle, like tilted wine bottles in the shape of a V.  In a Subaru boxer engine, the cylinders lie flat. When the engine is on, the pistons moving inside the cylinders pass each other like arms of sparring boxers, hence the name.  Only Porsche and Subaru use a boxer engine, and they choose it for its ability to generate a lot of power from a small, light package that can be mounted low in the vehicle for great handling.

Boxer engines are still commonly used in aircraft applications because they generate a lot of power from a light engine, and they are extremely reliable.  Subaru was originally an aircraft manufacturer, so when they broke into the car business they installed an airplane engine in a car...and the rest is history!



---
One minute video that explains the technology: