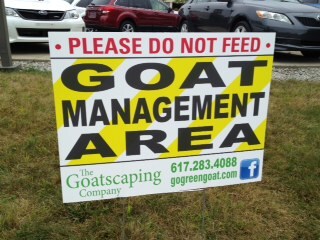 Goats and Sheep Handling the Landscaping at Hanover Car Dealership.

From Patriot Ledger, written by Ed Tonga.
Hanover--The new landscapers at Planet Subaru in Hanover aren't mowing the grass, they're munching on it. Four goats and four sheep are currently tending to the lawns on the 11-acre dealership. The farm animals, which are rented from the Goatscaping Co. in Plymouth, are being kept in a movable pen at the dealership, where they feed on plants, said Jeff Morrill, the dealership's president.
The pen is then moved to the shaggier lawns of the dealership as needed.
Morrill said the animals are part of an ongoing effort to make the dealership more environmentally friendly.
"Every chance we get, we try to do the green thing, and this was sort of the next frontier for us to try this out," said Morrill.
Past efforts to green the facility include the installation of 374 solar panels on the building's roof.