FOR IMMEDIATE RELEASE
4/1/12


Planet Subaru, "your undealership" in Hanover, Massachusetts, has developed a prototype Solar Powered Tribeca (SPT) that will be available for sale only at Planet Subaru. 

Prior to developing the SPT, Planet invested heavily in solar technology in 2011, installing 374 solar panels on the roof of its Hanover, Massachusetts facility, making it the only Subaru showroom in the world powered entirely by the sun. 

Planet Subaru's Service Manager, Matt Quinn, explained how a solar powered dealership came to build a solar powered car.  "Dealers retail cars; they don't generally build them, but during the construction of the photovoltaic system on our roof, we developed a close working relationship with the manufacturer of the panels, ProGreen Solar.  We beta tested a variety of panels for them.  Unfortunately, they went out of business shortly after we completed our rooftop installation, but they left us with two very special advanced technology panels that were revolutionary in design.  The engineers called them Phat Film Photovoltaic Panels, and each one has the solar collecting power of approximately five hundred conventional solar panels."  

ProGreen layered microscopically thin layers of silicon film, one on top of the other.  Each layer within the panel is approximately ten atoms thick.  The top-most surface, made of alumino-silicate glass, comprises about fifty thousand tiny Fresnel lenses that magnify the waves of light to push them through all the silicon layers.

Planet's founder, Jeff Morrill, said they bought the two prototype panels and the patents from ProGreen for one dollar.  "ProGreen Solar was developing the panels anticipating strong demand in the aerospace industry, where satellites require significant power from small panels.  They ran out of capital before they could perfect the technology."  Before ProGreen went out of business, they deeded the technology as a token of appreciation for the effort that Planet had invested in testing various panels for them over the years.  "I didn't really know what to do with the two panels or the patents.  We're car dealers, not rocket scientists, you know?  But they're really beautiful...deep sapphire...looking into one is like peering into the soul of the early universe.  So I made one into a coffee table."    Click here to see a short video of the table.

Sales Manager Corey Warren was inspired by the prodigious electrical output of the coffee table.  "I put my phone on the table one day while I was talking to a customer and it was fully charged three minutes later.  I didn't plug it in, I just put it on top of the table and it charged by induction.  And the panel wasn't even outside in the sun--it was just sitting under our showroom lights.  I realized that we had something very special.  I thought that the other panel would be powerful enough to run a car.  So our Shop Foreman, Anthony Chiulli, and I labored in the shop after work every night and we converted a Tribeca from fossil power to future power."  The project took about a year for the two gearheads to engineer and develop.  

Planet Subaru Purchase Partner and occasional prototype test driver, Lauri Blaauboer, said, "You can't believe how fast an electric car can be.  In a conventional gas-powered engine, power is limited by all sorts of factors, such as volumetric efficiency...you can only push so much air and gas into a small combustion chamber.  With an electric motor, well, it's just beautifully linear...you put more juice in and the output goes up.  I can make all four tires spin and smoke like a NASCAR race winner doing doughnuts in victory lane."  What happens when the sun doesn't shine?    "I remember taking trips as a kid in a 1976 Plymouth station wagon with an AM radio and the reception would cut out under bridges.  The SPT does the same thing, except the whole car cuts out."

Business Manager David Spellman has concerns about the sales viability of the SPT.  "While the photovoltaic technology is revolutionary, the battery technology isn't...so the SPT depends primarily on direct sunlight.  It does not perform well on cloudy or snowy days.  I'm concerned that we built the one Subaru in the world that can't go anywhere when its snowing.  The Di-Lithium Crystal Transductor (see photo below) was supposed to serve as a capacitor, but Di-Lithium is really unstable stuff and we're struggling to tame all the power fluctuations.  We have some kinks to iron out before this thing is ready for prime time."   

Not just any dealership would undertake such an ambitious challenge.  Internet Sales Manager Deb Brewster said she was first attracted to Planet Subaru because of it's "undealership" philosophy, offering a revolutionary customer service experience not found at a typical dealership.  "It meant a lot that a car dealership would work so hard to recruit women and also care so much about about the environment.  Now that our showroom is solar powered, and we'll soon be selling a solar powered Subaru, maybe we should change our tag line to the sundealership!  At Planet Subaru, every day of the week is Sun-day!"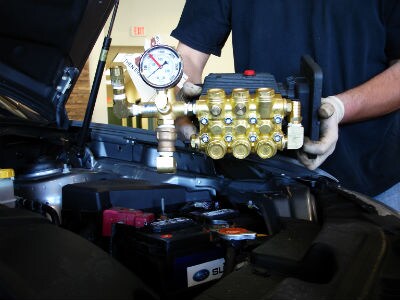 This picture shows how the Di-Lithium Crystal Transductor fits where the boxer engine used to go. 









2014 Planet Subaru Solar Powered Tribeca (SPT) Technical Specifications
Base price: $31,595

Vehicle layout: Front engine, Symmetrical AWD, 7-pass, 4-door SUV

Engine: Direct Current Electric Brushless Power Plant

Reserve Power System: Di-lithium Crystals from Brazil (Transduced)

Output: 596,000 watts (one horsepower equals 745 watts) (if the sun is out)

Transmission: Lineartronic Continuously Variable

Curb weight: 4150 lb

Wheelbase: 108.2 in

Length x width x height: 191.5 x 73.9 x 66.4 in

0-60 mph: 3.2 sec (if the sun is out)

EPA city/hwy fuel econ 562 city, 854 highway (if the sun is out)
Happy April Fools Day! The solar powered Tribeca does not really exist, nor does the Di-Lithium Crystal Transductor (which is actually a pump for our carwash water recycling machine...sorry Star Trek fans). But, believe it or not, the solar powered dealership really does exist!


Click here to see more of of Planet's world famous April Fools Day spoofs.

Media Inquiries: email Jeff Morrill, (781) 826-4444



About Planet Subaru:

Planet Subaru, a Hanover, Massachusetts-based franchised dealership, is one of the largest Subaru showrooms in the world and the only one powered entirely by the sun. Widely acclaimed for customer service excellence and environmental stewardship, Planet is "your undealership," the alternative to the typical dealership. Planet Subaru's sister store, Franklin, Massachusetts-based Planet Chrysler Jeep Dodge Ram shares the Planet Subaru philosophy.